Outlined below is the standard dance attire which is recommended for lessons, and compulsory for exams and workshops. Students have shown interest in wearing previous costumes / dancewear, so alternative leotards and tights will be accepted in lessons. The recommended dance attire will allow for necessary technique development as well as provide a professional outlook. Hip Hop students are welcome to wear alternative dancewear with sneakers.
With the exception of our Tiny Tots/Starlets outfits and the Intrinsic uniform (jacket, v-neck top and hip hop pants), all dancewear can be purchased from local dancewear shops including:
Sarah (our costume coordinator) can assist with buying or selling (on consignment) second-hand dancewear (email: sarah@intrinsicdance.com.au or phone: 0411 617 914).
Hair
Please ensure that hair is always tidy and away from the face. With the exception of Hip Hop and Tiny Tots/Starlets classes, girls' hair should be worn in a bun. For exams and other presentations, a black ribbon (1cm wide) is tied in a bow at the top of the bun.
Jazz (and Musical Theatre)
Girls
Black leotard – Energetiks Annabelle Camisole
Black v-band shorts – Energetiks Christina Short
Fiesta or Slick convertible matte skin-tone dance tights (or tan socks for lessons)
Tan split-soled jazz shoes – Energetiks Slip On Split Sole
Boys
Tiny Tots to Level 2 – White tank top – Energetiks Caleb
Level 3 and higher levels – Black tank top – Energetiks Caleb
Black boys/mens bike shorts or leggings – Energetiks Oakley
Black split soled jazz shoes – Energetiks Slip On Split Sole and black socks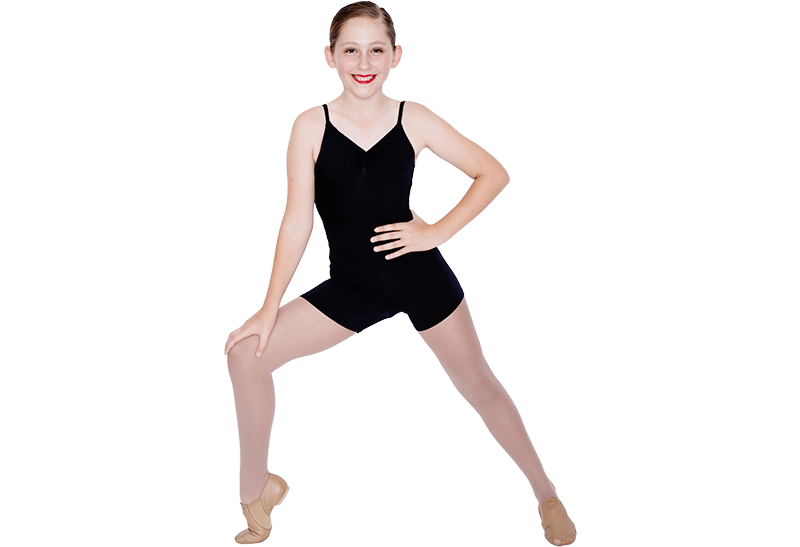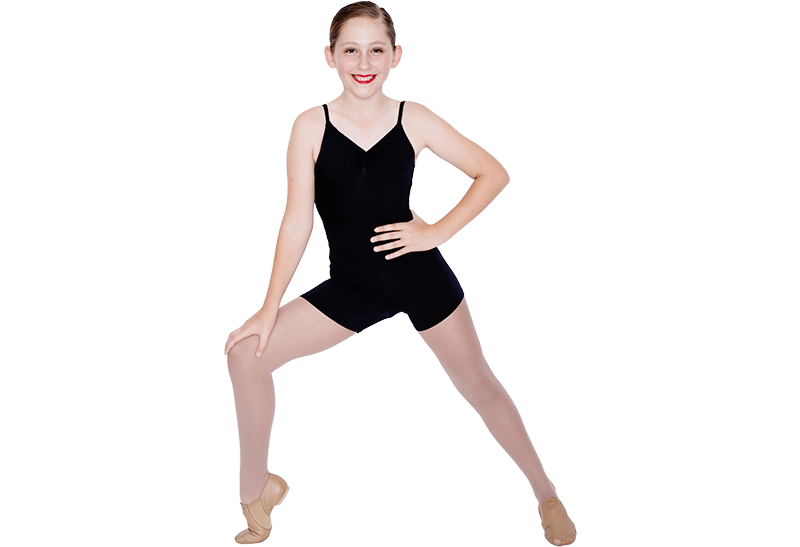 Jazz (and Musical Theatre)
Girls
Black leotard – Energetiks Annabelle Camisole
Black v-band shorts – Energetiks Christina Short
Fiesta convertible matte skin-tone dance tights (or tan socks for lessons)
Tan split-soled jazz shoes – Energetiks Slip On Split Sole
Boys
Tiny Tots to Level 2 – White tank top – Energetiks Caleb
Level 3 and higher levels – Black tank top – Energetiks Caleb
Black boys/mens bike shorts or leggings – Energetiks Oakley
Black split soled jazz shoes – Energetiks Slip On Split Sole and black socks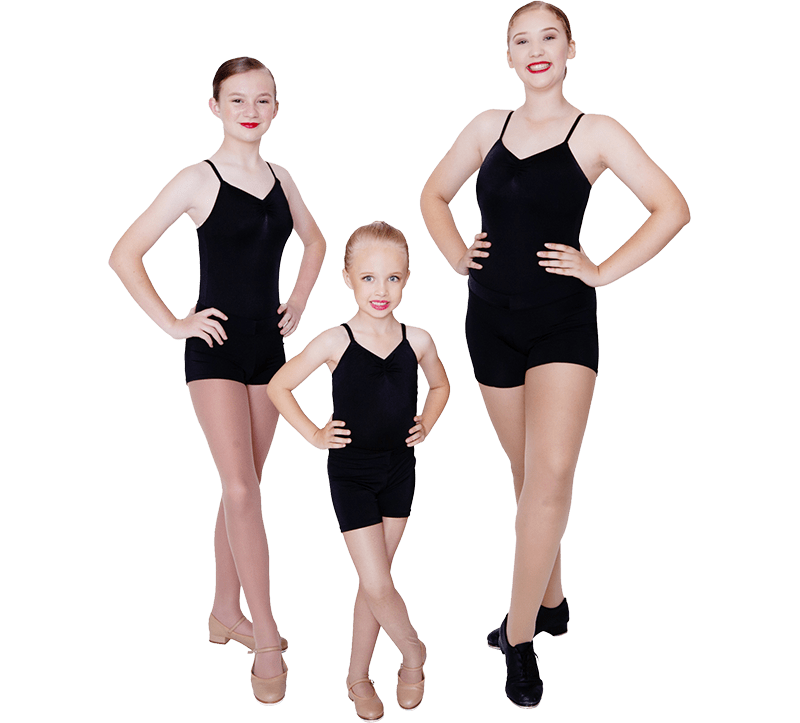 Tap
Girls
Black leotard – Energetiks Annabelle Camisole
Black v-band shorts – Energetiks Christina Short
Fiesta or Slick convertible matte skin-tone dance tights (or tan socks for lessons)
Level 1 – Gold Medal: Tan Bloch tap shoes
Gold Star and higher levels: Black Tap-Flex Bloch tap shoes (lace up)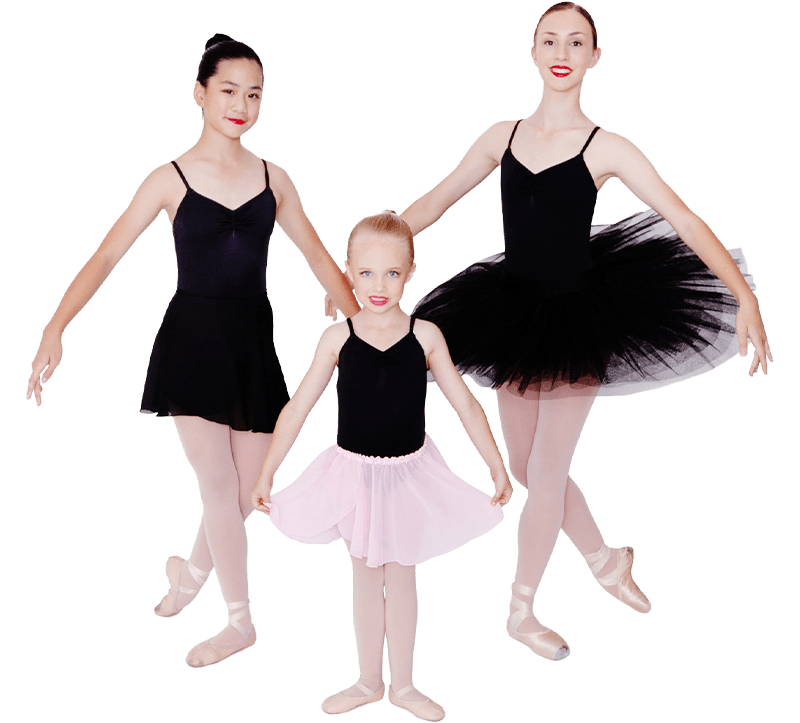 Ballet
Girls
Black leotard – Energetiks Annabelle Camisole
Fiesta or Slick ballet tights – flesh pink (or pink socks for junior lessons)
Levels 1 & 2: Pink georgette mock wrap skirt (ordered through dance school)
Level 3 to Senior levels: Black georgette crossover skirt – Energetiks Melody
Black crossover cardigans can be worn over leotards to keep warm (or pink for Tiny Tots to Level 2 students)
Pink full-sole ballet shoes with elastic
Gold Medal ballet and higher levels may require satin point shoes
[Note: Bronze Medal and higher levels require ribbons on ballet shoes at exam time and for selected performances; Black half-tutus are required for Silver Medal and higher exams levels; National character skirts and shoes are also required for Gold levels]
Boys
Tiny Tots to Level 2 – White tank top – Energetiks Caleb
Level 3 and higher levels – Black tank top – Energetiks Caleb
Black boys/mens bike shorts or leggings – Energetiks Oakley
Black ballet shoes (full-sole and with elastic) & white socks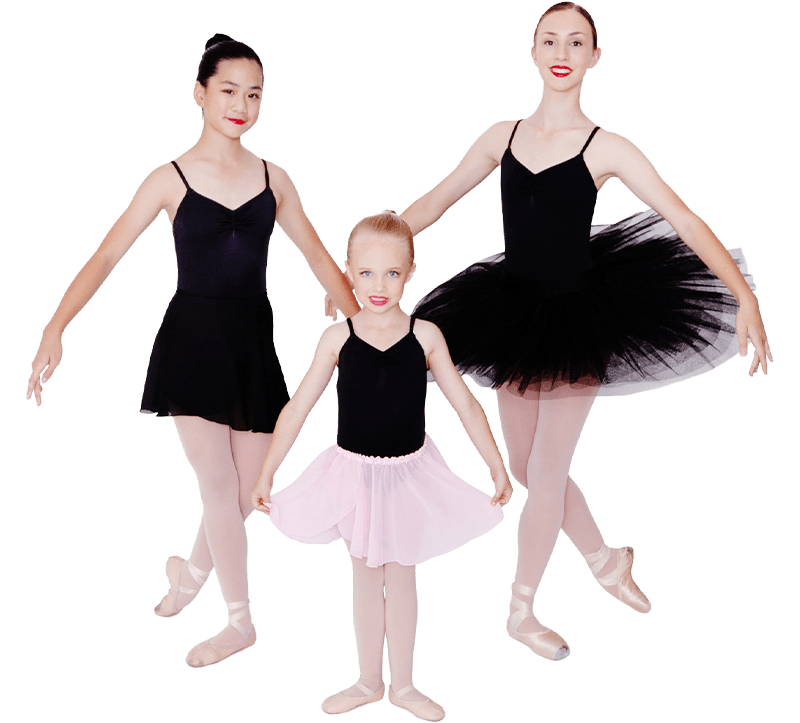 Ballet
Girls
Black leotard – Energetiks Annabelle Camisole
Fiesta ballet tights – flesh pink (or pink socks for junior lessons)
Levels 1 & 2: Pink georgette mock wrap skirt (ordered through dance school)
Level 3 to Senior levels: Black georgette crossover skirt – Energetiks Melody
Black crossover cardigans can be worn over leotards to keep warm (or pink for Tiny Tots to Level 2 students)
Pink full-sole ballet shoes with elastic
Gold Medal ballet and higher levels may require satin point shoes
[Note: Bronze Medal and higher levels require ribbons on ballet shoes at exam time and for selected performances; Black half-tutus are required for Silver Medal and higher exams levels; National character skirts and shoes are also required for Gold levels]
Boys
Tiny Tots to Level 2 – White tank top – Energetiks Caleb
Level 3 and higher levels – Black tank top – Energetiks Caleb
Black boys/mens bike shorts or leggings – Energetiks Oakley
Black ballet shoes (full-sole and with elastic) & white socks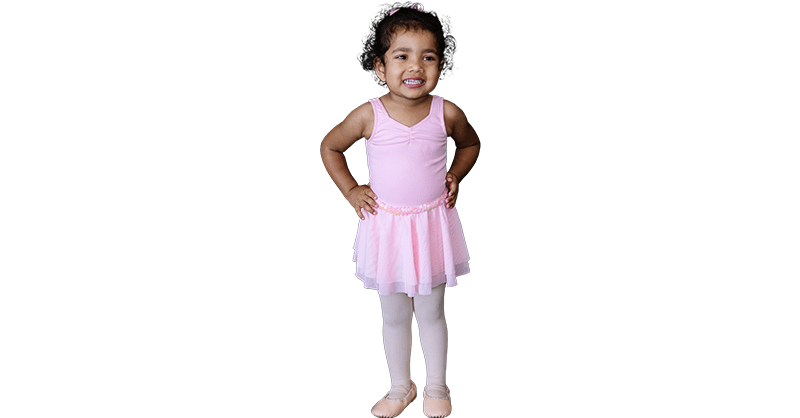 Tiny Tots & Starlets Programs
Girls
Pink leotard/skirt (ordered through dance school)
Fiesta or Slick ballet tights – flesh pink (or pink socks for lessons)
Pink full-sole ballet shoes with elastic
Boys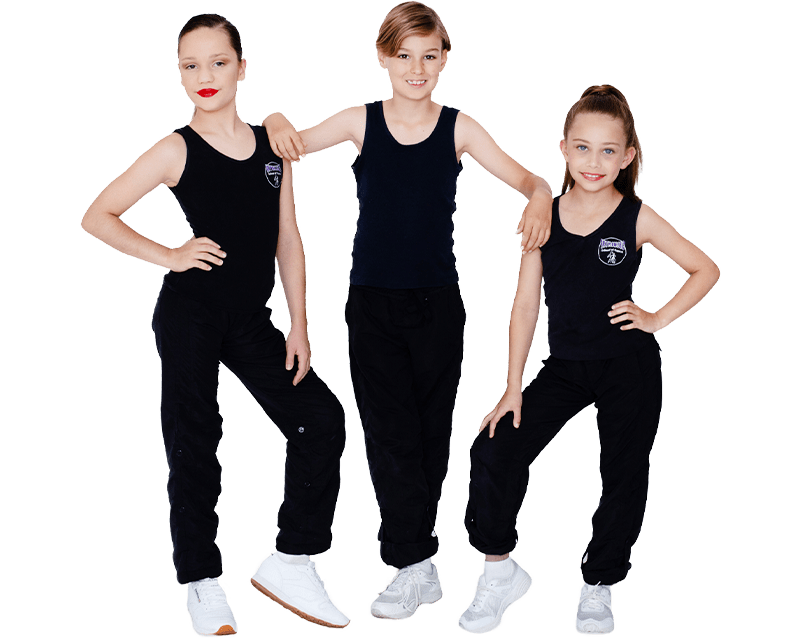 Hip Hop
Black Intrinsic top (ordered through dance school)
Intrinsic hip hop pants (ordered through dance school)
White joggers & socks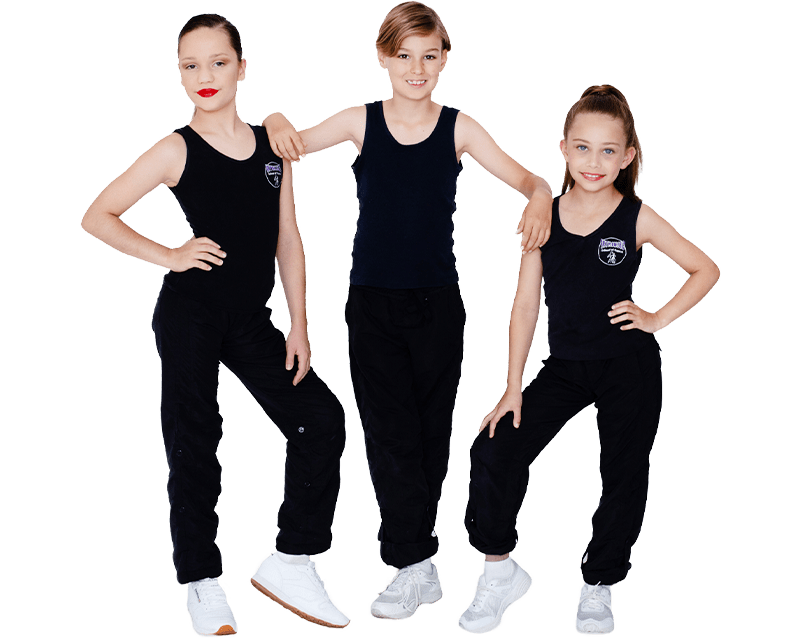 Hip Hop
Black Intrinsic top (ordered through dance school)
Intrinsic hip hop pants (ordered through dance school)
White joggers & socks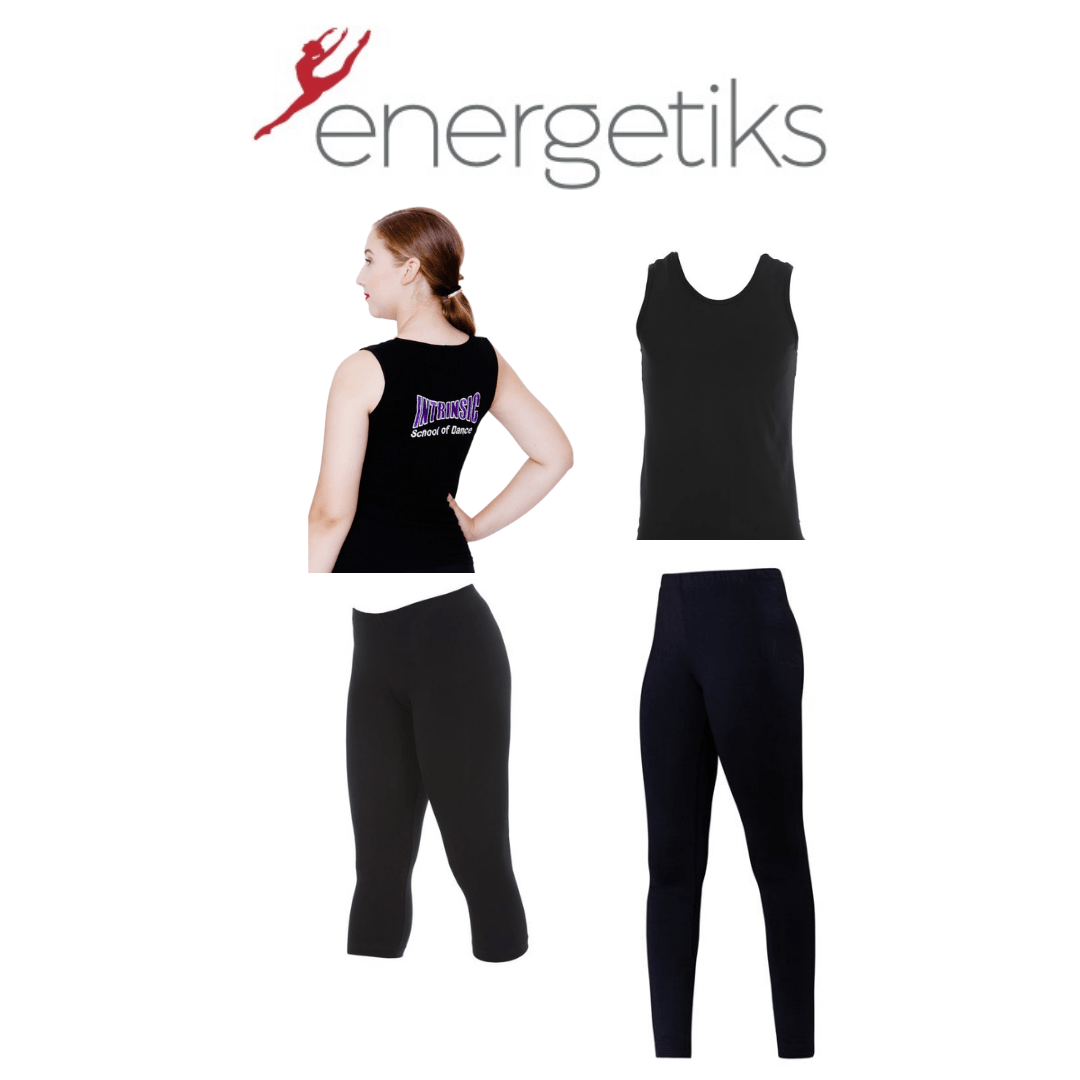 Contemporary
Girls
Black Intrinsic top (ordered through dance school)
Black 3/4 leggings – Energetiks Oakley
Bare feet
Boys
Black tank top – Energetiks Caleb
Black boys/mens bike shorts or leggings – Energetiks Oakley
Bare feet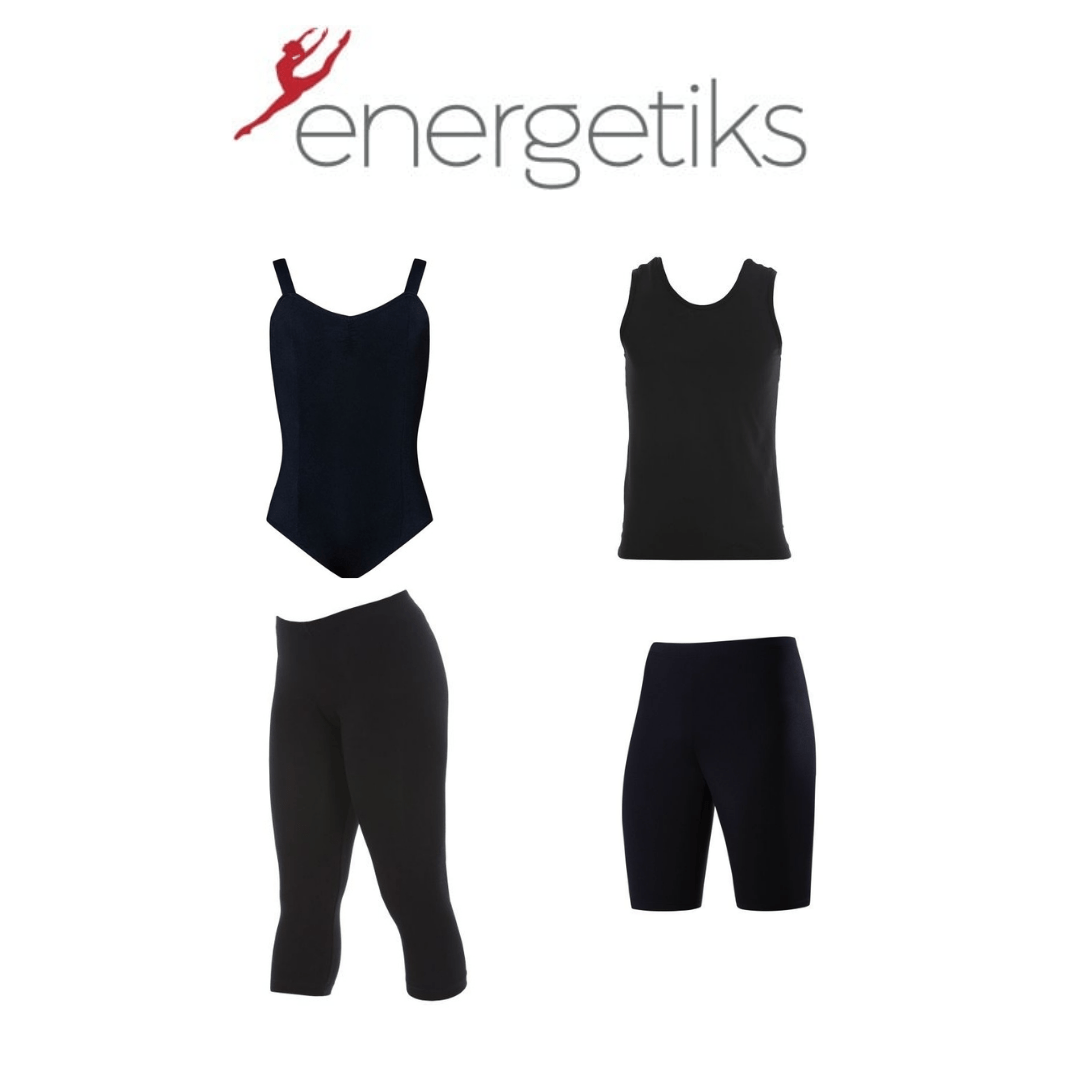 Acrobatics
Girls
Black leotard – Energetiks Annabelle Camisole
Black 3/4 leggings – Energetiks Oakley
Bare feet
Boys
Primary to Level 1 – White tank top – Energetiks Caleb
Level 2 and higher levels – Black tank top – Energetiks Caleb
Black boys/mens bike shorts – Energetiks Oakley
Bare feet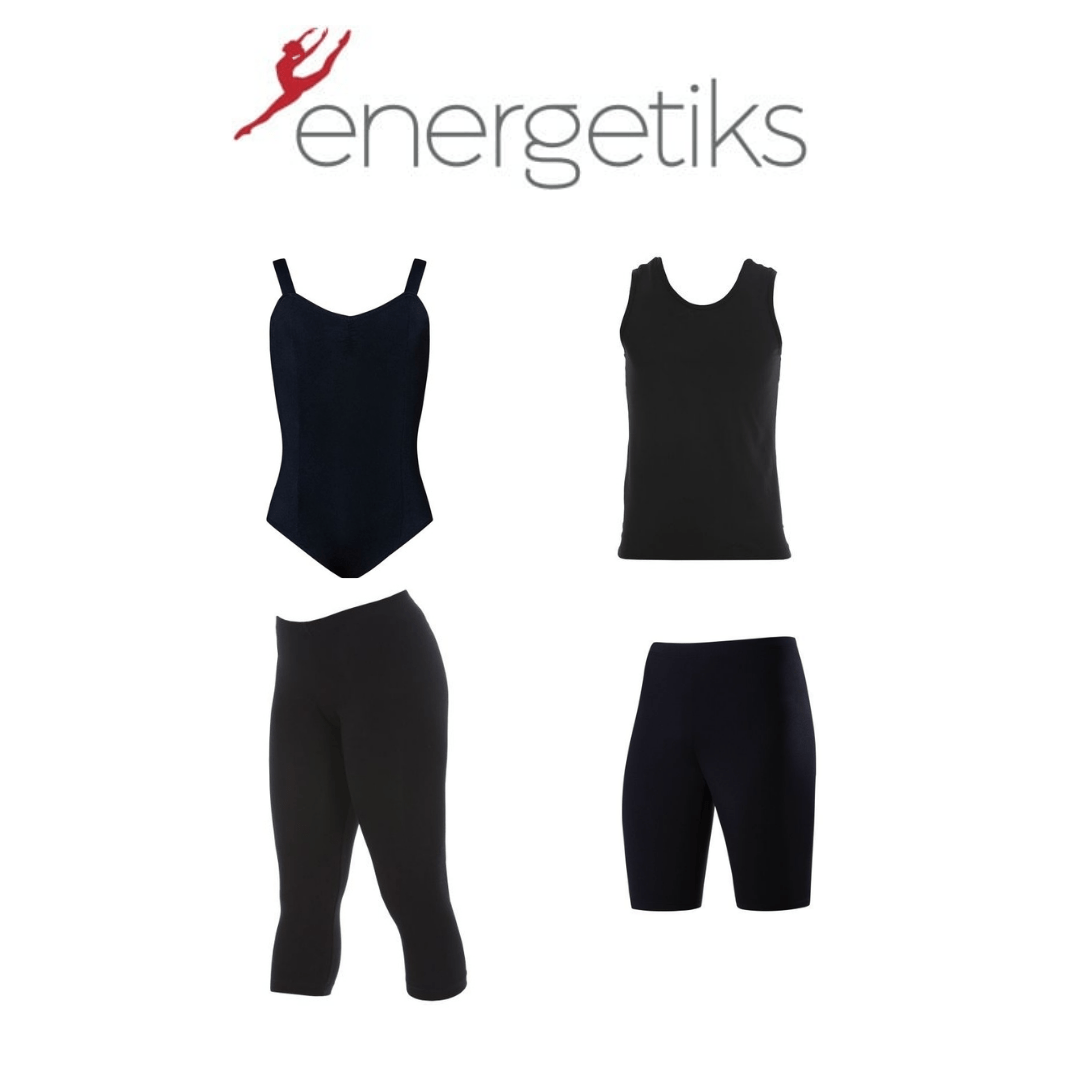 Acrobatics
Girls
Black leotard – Energetiks Annabelle Camisole
Black 3/4 leggings – Energetiks Oakley
Bare feet
Boys
Primary to Level 1 – White tank top – Energetiks Caleb
Level 2 and higher levels – Black tank top – Energetiks Caleb
Black boys/mens bike shorts – Energetiks Oakley
Bare feet